VENDITA STRUMENTI TOPOGRAFICI ED ACCESSORI

LIVELLO DI PRECISIONE DS05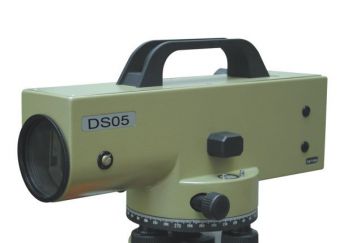 Autolivello DS05
€. 1.100 più IVA
Ingrandimenti 38x
Lamina Pian parallela incorporata lettura diretta mm.0.1
Dotato di maniglia per un facile trasporto
DS05 are used in second and third order levelling and monitoring structural deformation, also could be used in geodetic control, construction of roads and instrial applications etc.
The use of automatic compensator speeds up work and improves accuracy. They can be operated in the temperature form -30?to 50?.
Level and parallel plate micrometer integration Standard deviation of 1km double run: ±0.3mm Designed for the highest accuracy in geodesy, engineering and industry.
Model DS05 Automatic Level is adoptable for the second and third-order geodetic leveling of national networks; It can be used for engineering and deformation surveys, such as height control for engineering projects, deformation and subsidence measurements, checking bridges and structures, monitoring movements, etc. It is also used for general construction engineering and installation of large size machines. We know that compensator is made up of metal material and glass material, the temperature can affect these materials results in slight changes of compensator, then causes change of I angle. The instrument without temperature offset is always not to reach the standard of nation (GB/T10156-1997), In the diagram, the green area where between the red lines is a acceptable area when the compensator is changed along with the temperature s change (Company standard: 0.5 / ).
The red thick line A is a change curve for angle I of level without temperature offset. Our DS05 levels add a device of temperature offset, it can correct the change value of angle I when changing the temperature.
The green thick line B is a change curve for angle I after offset, the instrument can be good work in the malconditions of large temperature change, especially apply to transformation observation at a long time.